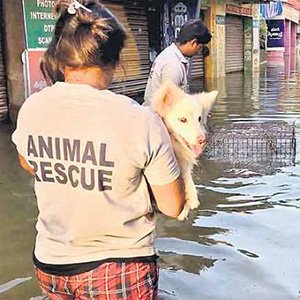 When Vimaan Suan was first conceived, we focused more attention on the need for a sanctuary for senior and special-needs companion animals in our community.  Our growing involvement with rescues is in direct response to the surge in appeals and reports that we have received in the past year. This has shown us that the need for a rescue and rehabilitation programme is more immediate and we have since changed our direction to focus on trying to provide solutions to meet this need.
While we may be relatively new to the world of rescues, Vimaan Suan subscribes to the "3-R" process of rescuing, recovery & rehabilitation, and rehoming of our rescues. We are encouraged to have experienced success in the past year with the rehoming of the majority of our rescues, thanks in part to excellent veterinary support and our small but efficient network of fosters and volunteers. 
However as the number of reports and appeals for rescues continued to increase, a new solution to the "recovery and rehabilitation" portion had to be found. On Dec 1, 2019, we established the Animal Recovery Centre where rescues can now rehabilitate in a home-like setting after they have been treated by our partner veterinarians.
Vimaan Suan is very thankful to the community and our partner veterinarians for their kind and generous support of our rescue efforts in Vientiane and will continue develop our rescue teams to meet the needs of companion animals and the community.
Our rescue team currently includes a loose network of animal lovers who are mobilised when reports are sent to us about a dog or cat in need. We have partnered with MyVet Animal Clinic, International Veterinary Centre and AmVet to provide medical treatment for our rescues.  MyVet Animal Clinic has helped us setup a separate BCEL Bank account for the Rescue Medical Fund that we can call for and accept donations to cover these medical costs.